Alright so if you haven't read the previous blog about the trip you should do that first and then read this one since I am writing them chronologically. So sorry it took me until tonight to get this blog out I had a lot of anxiety built up I think from not being on the bike and from not being busy all day. I haven't really adjusted from being in the outdoors all the time and back to the "real world." However, I went out today and climbed Lefthand Canyon just north of Boulder. I think it may have been to0 big of a ride for just getting back on the bike but it kicked my ass and got rid of the twitchy can't hold still anxiety I had. It was a 3 hour 50 mile ride and I climbed about 3500 ft. The legs are hurtin but it is a good hurt for sure. I was also welcomed back to the Boulder bike community with a couple of killer riders flyin right by when I was ripping a decent pace (for myself). A couple Slipstream Chipotle pro riders were out in the canyon as well. Man they make it look easy.
Onto segment two of the trip. Heading into Yellowstone from Livingston. The second morning of the ride we woke up and packed our things to make the 50-60 mile ride down to Gardiner, MT and the entrance of Yellowstone. First we stopped at a local dinner and killed a breakfast before we hit the road. After that we headed down east river road which got us off of HWY 89 for a bit and away from traffic. It was a good ride all by ourselves taking pictures with a bit of haze. Below is a picture of AJ on East River Road. His bike is definitely a tank.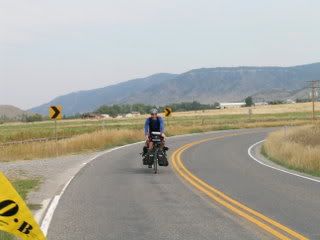 Once we got off of East River Road we were back on HWY 89 for a while stopping along the way for photos here and there. The ride was peaceful and pretty uneventful. Just the way we like it. Once in Gardiner we stopped in to the National Forest Service office to get some local up dates and what not. Here is a picture of AJ getting goofy, singing a tune, and dancing a little jig. The guy behind doesn't look to entertained by it!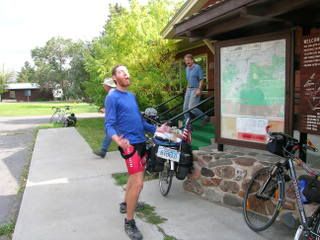 After that it was as short jaunt into Yellowstone to Mammoth Hot Springs where we would camp. Fireworks went off at the entrance when the Ranger told AJ that his National Parks pass would only get him in not Marie and I who would have to pay $12 each. We held up the line for a bit arguing before another Ranger came out to take us aside and discuss the situation. First off I will say she did an amazing job with the situation. Now for the argument. It was pretty ridiculous. We told the lady that if she wouldn't let the three of us in we would just jump in a truck and get that vehicle in for free as well. She said that was perfectly fine which makes NO SENSE! Yellowstone has long been fighting to get pollution and vehicle traffic down in the park and they are not going to let 3 bikers get in on a pass but they will let a Ford Excursion with 5 people in! Not to mention the park would be losing out on money by us getting another vehicle in for free along with ourselves. So we asked that a Ranger from the head office be called down. The lady kindly met our request. However, after further discussion and reading the regulations on the back of the card as to how it works the lady made another call coming back out to us telling AJ that he was correct and that we could all pass into the park. AJ was still upset at the situation because he knows that many people would have just laid down and paid the extra money. All in all it was a pretty crazy event that we came out successful in. Here is a picture entering the park and also a picture of Mammoth Hot Springs from afar. I am going to conclude on that tonight and I will get another blog out tomorrow hopefully covering the next two days in Yellowstone.