Alright the moment everyone has been waiting for... I reveal the story of how I traveled 500 miles from Bozeman, MT to Logan, UT by bicycle.
I'll start from the very beginning. So I awoke Saturday morning Sept 15th with no problems and was excited to catch the bus and begin my journey. I woke Tim up and he drove me down to the Boulder Bus Depot. I was there about 45 minutes before the bus was supposed to leave. After about 15 minutes I started to feel like something wasn't right. I asked one person where the Powder River buses (Local Greyhound Contractor) come in. He didn't know. So then I thought you know I never see anything but RTD (the local bus system) buses around here. One guy then over heard me and told me that Greyhound stop was not there! But rather it was like 10 minutes away by car out on 30th and Diagonal Hwy in northeast Boulder! So I jump on the horn and call Tim hoping, wishing, pleading that he answers his phone and that he wasn't back asleep already since it was only 8 am! Sure enough he answered it because he thought I had probably forgot something. So I asked him to get me the Greyhound number so that I could make sure where the stop was and then come down and pick me up. He jumped on it and I found out that the station was clear out there at a gas station! So I got out there and sure enough I made it with about 10 minutes to spare! Glad I was up early and gave myself enough time in case something went wrong.
So I settled in on the bus glad I didn't waste a day missing the bus. The ride was pretty mellow until in Greeley, CO where I was lucky enough to have a bum sit pretty much on top of me falling over sleeping on me and stinking to high heaven! Luckily he got off in Ft. Collins and I once again had two seats to myself. There are a few things I learned while riding the bus, 1. You have got to be a smoker or drug addict! Everyone on those damn things smokes and they rush off at every stop to get their nicotine or perhaps smoke mary j, 2. You have to eat total shit and gut bombs, you only get fast food and gas stations, and 3. The bus sucks and takes way to long but it's cheap! Probably the most ridiculous thing I saw was this guy while at a layover in Gillette, WY trying to get every last puff out of a roach. I don't even know how he could hold onto it. He then threw it on the ground made a comment to another guy about how he finished it and the other guy was like "man how you going to do me like that?" because he finished it without him. That guy then proceeded to pick up this little roach of the ground and tried to smoke it! I had to laugh. There were other events that went on as well but nothing really worth mentioning just kinda funny.
So I finally made it into Bozeman at 4am made the call to AJ to head down and meet me. I started putting my bike together and had everything together but the pedals when AJ arrived. We exchanged our greetings and headed through downtown Bozeman on our bikes to his friend Ben's house where he was staying. We made a quick stop at Safeway to see if we could get some donuts but they weren't open yet! So we proceeded to Ben's and got some sleep before waking up the next morning at 10am. I got my first glimpse of AJ's burn that morning when Marie helped him change the dressing on it. It my friends is pretty gnarly. It is healing well but at a very slow pace that weighs heavy on his mind. However, he takes great care of it and I am sure it will continue to heal without any problems or infection. After the dressing change I then made a call to Lincoln so AJ and I could meet up with him for breakfast.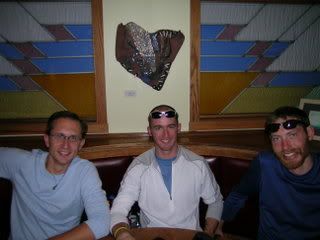 After a delicious breakfast we went to Lincoln's studio to get some copies of the segment Lincoln did on AJ's ride that was broadcast all over western Montana. Here are a couple pictures of AJ and I at the studio.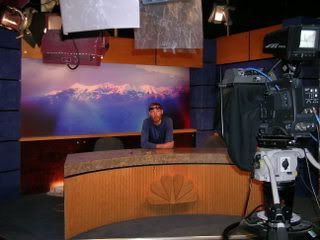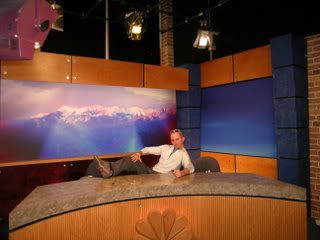 We then headed back to Ben's house to pack our gear and get ready to head out to Livingston 30 miles from Bozeman where we would head south into Yellowstone National Park the next day. We enjoyed a 15-30 mph tailwind up, over, and down the pass into Livingston. That would be the only tailwind we had the entire trip. I'll end this first post with a couple of pictures from our night camping south of Livingston and pictures of our delicious dinner. I'll try and get another post out tonight or tomorrow about the adventures through Yellowstone.