Last night may have been my best night's rest in quite sometime. I actually had to pull my down comforter on in the middle of the night instead of just sleeping with a sheet. Granted my fan was still on as well but there was definitely a little nip in the air. It was amazing to say the least. Timmy also had a snowboard dream so I definitely think fall is in the air. We both bought our Colorado Passes last weekend which is good for unlimited riding at Arapahoe Basin, Keystone, Breckenridge, and 10 restricted days at Vail or Beaver Creek. We are both pretty excited about it!
So yesterday instead of a ride in the canyons on my road bike Tim and I went down to Golden Gate State Park between Boulder and Golden for a mountain bike ride. I had ridden the trails up there once this summer during a house warming party at my bosses house who lives up Coal Creek Canyon just a half mile from Golden Gate. I knew some parts of the trail were pretty loose and sketchy but there is a section of fast completely amazing single track through a meadow that makes the rest of the torture on the loose stuff completely worth it. Tim wasn't to happy during a lot of the trail and I asked him what the hell he wanted haha. I just think he needs to get those biking legs back and he might be in better humor. But he was also having a few mechanical problems and that is never easy to deal with. Been there dealt with that... no fun! Below are a couple of pictures of Tim coming through some of the fast singletrack which he really enjoyed.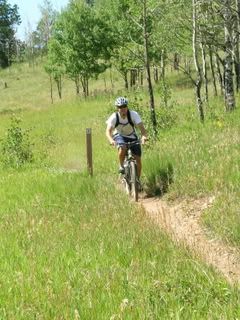 Today is going to be a day of running around getting some things for the ride with AJ. I need to get a bike box from a shop, some spare parts such as derailleur cables, brake cables, spare chain links, and lights for night riding if needed. I just got off the phone with him a bit ago and we have come up with some ideas for the ride that are going to make it a lot of fun and probably quite comical. But you all are going to have to wait to find out and see what they are. AJ is also going to be going to the doctor again when he gets into Bozeman tomorrow and hopefully the Doc will say everything is ok. Otherwise the ride might be put on hold and I will be out of a bus ticket but let's hope there is no need for those thoughts. Anyway that's all for now.